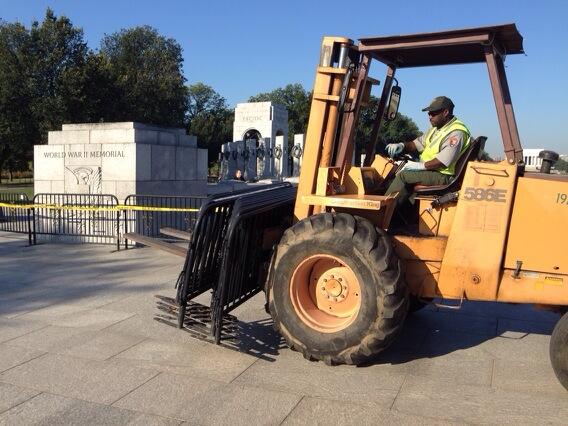 I wrote a little in comments yesterday about this story, which was dutifully buried by the mainstream media last night, because the "optics" wouldn't be good for the petty, vindictive, mean-spirited, craven, puerile, insouciant, arrogant, peevish, totalitarian Obama administration.
Today, the administration is doubling down on its heavy-handed tactics against the Greatest Generation, seeking to score political points at their expense. Some background: [emphasis added to quotes]
The White House and the Department of the Interior rejected a request from Rep. Steven Palazzo's office to have World War II veterans visit the World War II memorial in Washington, the Mississippi Republican told The Daily Caller Tuesday.

Palazzo helped the veterans commit an act of civil disobedience against the Park Service Tuesday, when the heroes stormed through barricades around the closed memorial. …

"We got the heads up that they will be barricaded and specifically asked for an exception for these heroes," Palazzo told TheDC.

"We were denied and told,

'It's a government shutdown, what do you expect?'

when we contacted the liaison for the White House."

Palazzo's office was in touch with the heads of the National Park Service, the Department of the Interior and the Capitol Police. He says all these officials rejected his request to allow the veterans, many of whom are octogenarians and some of whom are in poor health, to attend.
The Obama adminstration today seems to have sent in more "troops" to build even more-substantial Barrycades, confident that the mainstream media will continue to bury this story.
But wait! Harry Reid blames it on Republicans. However, Obama's Office of Management and Budget ORDERED the Barrycades to be built.  
Oddly enough, the administration says that the WWII Memorial is closed EXCEPT for "First Amendment activities." One can surmise that this means that there's an exception for leftist, ASTROTURFED OWS protests against the Republicans in the House who, despite controlling only half of one-third of the government, somehow are single-handedly responsible for shutting vets out of the WWII Memorial.
The veterans are continuing their civil disobedience; they plan to break through Barrycades at the Lincoln Memorial, since that monument was added to the spite list, too.
The same veterans group that managed to storm the gates at the WWII memorial yesterday is planning taking on the fences at the Lincoln Memorial today. This sounds like a capitol idea, pun intended.

Both memorials are open air memorials. The Lincoln Memorial is open 24 hours a day, normally. If you'll recall, it was wide open to having someone throw green paint on it in the evening a few months ago.

So that means the Obama administration is making a conscious effort to spend more in time and money to shut off something which is normally open.

How ridiculous is this effort by President Obama to make the people "hurt" so he can blame it on Republicans, just as he did with the sequester, which was also his idea?

We still don't have access to the White House, the people's house, allegedly because of the sequester, although Obama has spent countless of our millions since then on vacations, parties and golf.
Obama did, however, cancel "part" of his jaunt to Asia because those optics would not look good, either. How disappointing it will be for him to, once again, not be able to visit the land where this self-described desi grew up.  Yet Jay Carney casts doubt on whether or not the trip truly was canceled.  Barry may see Bali again.
These brave veterans, dissed by Obama, truly are members of the Greatest Generation, as evident from this story:
"It just goes to show you why we won World War II," says Honor Flight of Northwest Ohio President Lee Armstrong.

Many elderly veterans, some in wheelchairs, broke through the barriers set up around the memorial, as police, park service employees, and tourists looked on. "The Germans and the Japanese couldn't contain us. They weren't going to let barriers contain them today. They wanted to see their memorial," says Armstrong.

Their spirit  is strong, if their bodies are now weakened by age.  Even today, they are better men (and women) than their so-called commander in chief.
They will visit their memorial, despite that one craven employee of Barack Hussein Obama's administration THREATENED THEM WITH ARREST and then hung up on their representative when he asked for her name:
[W]hen [Lee Armstrong] called the parks service, he was told they would face arrest.

"I said, are you kidding me? You're going to arrest a 90/91-year-old veteran from seeing his memorial? If it wasn't for them it wouldn't be there. She said, 'That's correct sir.'"

When Armstrong asked for her name, he says she did not give it to him and then promptly hung up the phone.
Images of aged warriors, locked out of a memorial that honors their service and sacrifices, are quickly becoming iconic images–symbols of everything that makes far too many citizens uneasy about the person in the Oval Office and the minions who follow him in mendacious lockstep.
That's exactly why the photos are being buried, the story is being spun, and the blame is being cast upon Republicans.
The light of day is shining on this POTUS, and what We the People see is far from attractive.
#####